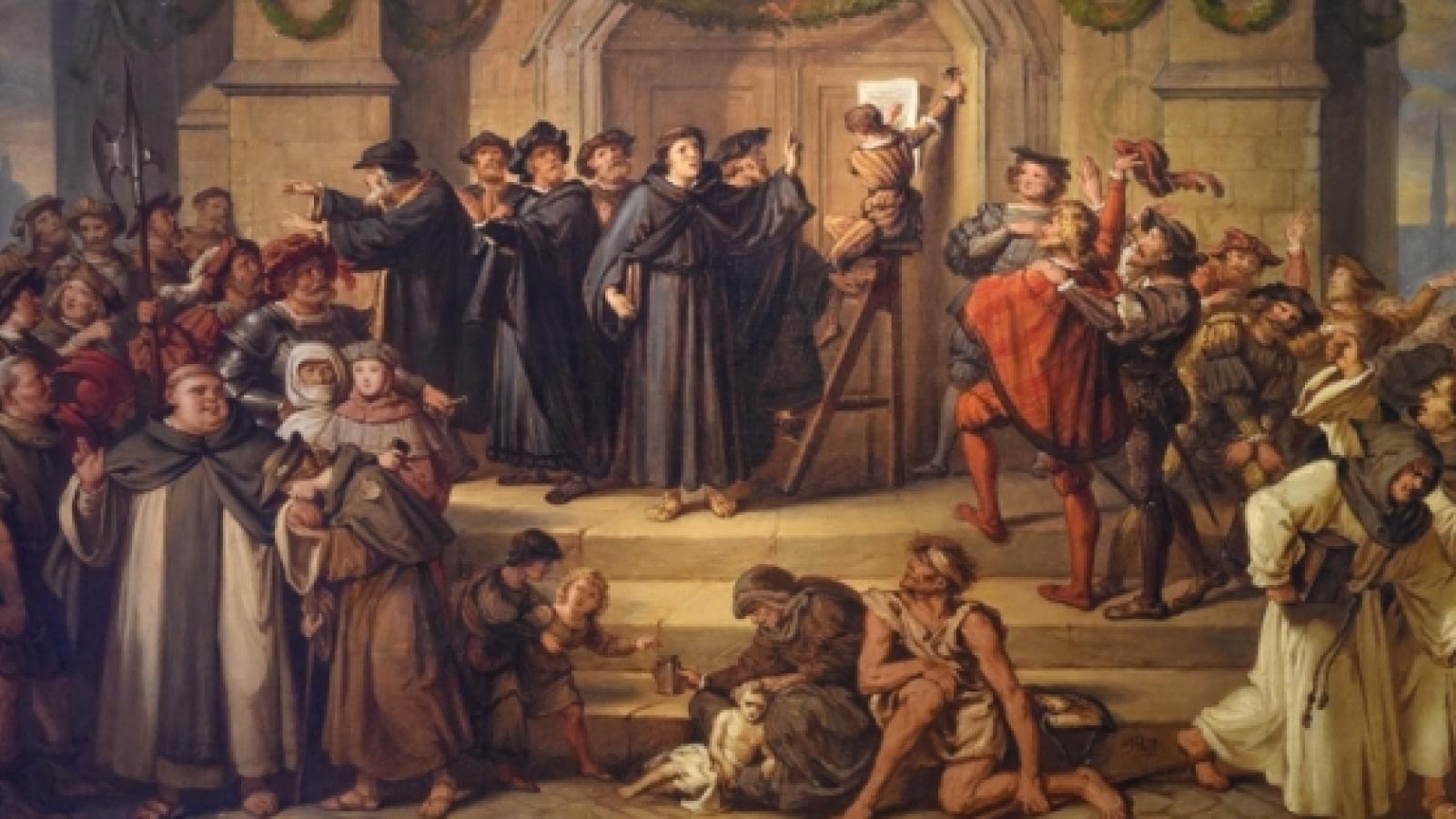 Body
Reformation and Remembrance: A Symposium
October 20 and 21, 2017
Thompson Library, Room 202
The Ohio State University
---
Reformation and Remembrance is a two-day symposium exploring practices of, repositories for, and revisions to religious memory on the quincentenary of a seminal moment in Reformation history, Martin Luther's nailing of his 95 theses to the door of the Wittenburg church in 1517. The symposium brings together a group of world-class scholars to consider the important roles of memory and remembrance in Reformation religious culture, from artistic representation to material production to life-writing.
In addition to paper presentations and roundtable discussions, the symposium also coincides with the University's Rare Books & Manuscripts Library's exhibition, "Publish or Perish," highlighting the important role the technology of print played during the Reformation. Participants will have an opportunity to tour the exhibit and interact with some of the Library's original Reformation-era holdings.
Finally, the symposium features one of the speakers in our 2017-2018 lecture series, Alexandra Walsham (University of Cambridge).
This event is free and open to the public.
We thank our co-sponsors for their support:
The Center for the Study of Religion
The Department of English
The Department of Germanic Languages and Literatures
The Department of History
The Department of History of Art
Schedule of Events
Friday (10/20)
9:00 a.m
Coffee and Pastries
9:20 a.m.
Introductory Remarks by Chris Highley, CMRS Interim Director, OSU English
9:30 a.m. - 11:30 a.m.
Session 1:
Remembering Eve in Martin Luther's Theological Imagination (Abstract.pdf )
Kirsi Stjerna, Pacific Lutheran Seminary (Bio)
Introduction by David Brakke (Department of History)
Nostalgia for the Early Church in 17th Century Controversial Theology
Ralph Keen, University of Illinois at Chicago
Introduction by Luke Wilson (Department of English)
11:30 a.m.
Visit to the Reformation Rare Books Exhibit
Presented by Eric Johnson,
Curator of Rare Books and Manuscripts
Rare Books and Manuscripts Reading Room
Thompson Library Room 105
12:30
Lunch for symposium speakers and graduate students
Room 204 (advance sign-up required)
1:30 p.m. - 3:30 p.m.
Session 2:
"Stilled Lives, Still Lives: Reformation Memorial Focus"
James Simpson, Harvard University
Introduction by Hannibal Hamlin (Department of English)
"Remember the Ladies! Women in Words and Images in Histories of the Reformation"
Merry Wiesner-Hanks, University of Wisconsin at Madison
Introduction by Tryntje Helfferich (Department of History - Lima Campus)
3:30 p.m
Refreshments
4:00 p.m. - 4:45 p.m.
Session 3: CMRS Lecture
"Recycling the Sacred: Material Culture and Cultural Memory in Post-Reformation England"
Alexandra Walsham, University of Cambridge
Introduction by Chris Highley (CMRS Interim Director, Department of English)
4:45 p.m
Q & A session
Saturday (10/21)
8:30 a.m
Coffee and Pastries
9:00 -11:00 a.m
Round Table Discussion with Professors Keen, Simpson, Stjerna, Walsham and Wiesner-Hanks