Image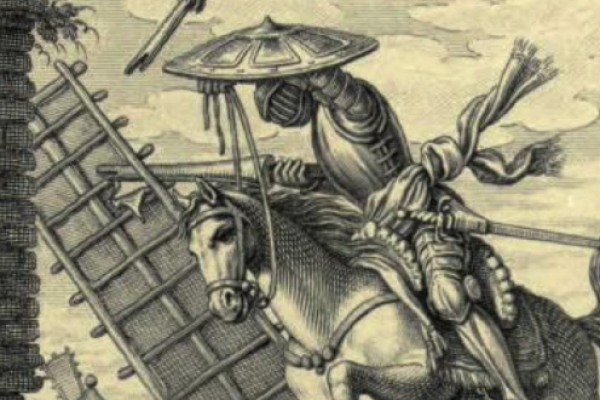 September 30 - October 1, 2016
9:00AM - 11:30AM
Location
Thompson Library, Room 202
Date Range
Add to Calendar
2016-09-30 09:00:00
2016-10-01 11:30:00
La Senda Dificil: Quest and Meaning in Cervantes' Poetics at the Quadricentenary
La Senda Dificil is a two-day symposium celebrating the life, times, work, and world of Miguel de Cervantes for his quadricentenary. As part of the international IV CENTENARIO DE LA MUERTE DE CERVANTES program, it gathers a group of world-class scholars to explore Cervantes' art and cultural legacy from a range of critical perspectives, from problems related to his poetics, to his representations of the Mediterranean, to his lasting impact on European art and culture. In addition to paper presentations and roundtable discussions, it will also include a rare book exhibit, providing an opportunity to explore some of OSU's rare Cervantes collections in the Rare Books and Manuscripts Library.  Finally, the symposium also features the next speaker in our 2016-2017 lecture series, María Antonia Garcés (Cornell University).More information, including a list of speakers and schedule of events, can be found here.   Sponsored by The Center for Medieval and Renaissance StudiesThe Department of Spanish and Portuguese and other Departments and Programs including:University LibrariesProject NarrativeComparative StudiesHistory of Art English The Cervantes Symposium is part of the official program for the IV CENTENARIO DE LA MUERTE DE CERVANTEShttp://400cervantes.es Twitter Hashtag: #400Cervantes
Thompson Library, Room 202
OSU ASC Drupal 8
ascwebservices@osu.edu
America/New_York
public
Date Range
Add to Calendar
2016-09-30 09:00:00
2016-10-01 11:30:00
La Senda Dificil: Quest and Meaning in Cervantes' Poetics at the Quadricentenary
La Senda Dificil is a two-day symposium celebrating the life, times, work, and world of Miguel de Cervantes for his quadricentenary. As part of the international IV CENTENARIO DE LA MUERTE DE CERVANTES program, it gathers a group of world-class scholars to explore Cervantes' art and cultural legacy from a range of critical perspectives, from problems related to his poetics, to his representations of the Mediterranean, to his lasting impact on European art and culture. In addition to paper presentations and roundtable discussions, it will also include a rare book exhibit, providing an opportunity to explore some of OSU's rare Cervantes collections in the Rare Books and Manuscripts Library.  Finally, the symposium also features the next speaker in our 2016-2017 lecture series, María Antonia Garcés (Cornell University).More information, including a list of speakers and schedule of events, can be found here.  Sponsored by The Center for Medieval and Renaissance StudiesThe Department of Spanish and Portuguese and other Departments and Programs including:University LibrariesProject NarrativeComparative StudiesHistory of Art English The Cervantes Symposium is part of the official program for the IV CENTENARIO DE LA MUERTE DE CERVANTEShttp://400cervantes.es Twitter Hashtag: #400Cervantes
Thompson Library, Room 202
Center for Medieval and Renaissance Studies
cmrs@osu.edu
America/New_York
public
Description
La Senda Dificil is a two-day symposium celebrating the life, times, work, and world of Miguel de Cervantes for his quadricentenary. As part of the international IV CENTENARIO DE LA MUERTE DE CERVANTES program, it gathers a group of world-class scholars to explore Cervantes' art and cultural legacy from a range of critical perspectives, from problems related to his poetics, to his representations of the Mediterranean, to his lasting impact on European art and culture. In addition to paper presentations and roundtable discussions, it will also include a rare book exhibit, providing an opportunity to explore some of OSU's rare Cervantes collections in the Rare Books and Manuscripts Library.
Finally, the symposium also features the next speaker in our 2016-2017 lecture series, María Antonia Garcés (Cornell University).
More information, including a list of speakers and schedule of events, can be found here.
---
Sponsored by
The Center for Medieval and Renaissance Studies
The Department of Spanish and Portuguese
and other Departments and Programs
including:
University Libraries
Project Narrative
Comparative Studies
History of Art
English
The Cervantes Symposium is part of the official program for the
IV CENTENARIO DE LA MUERTE DE CERVANTES
Twitter Hashtag: #400Cervantes
---