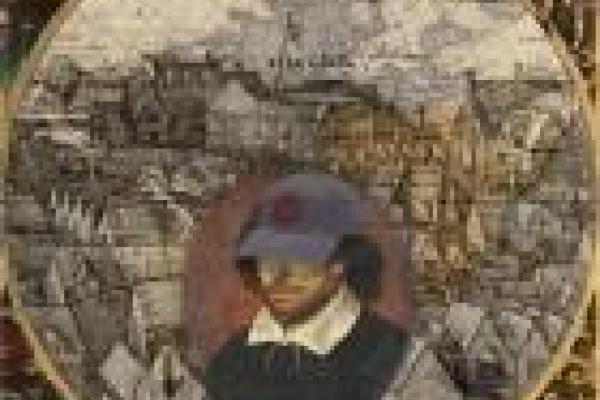 February 19 - February 20, 2016
9:00AM - 6:00PM
Add to Calendar
2016-02-19 10:00:00
2016-02-20 19:00:00
Popular Culture and the Deep Past, 2016: Shakespeare's Day - 1616/2016
 February 19-20, 2016Ohio Union - The Ohio State UniversityAcademic ConferenceAbstractsAdditional Attractions Shakespeare's Day Main Page Register for Shakespeare's Day Shakespeare Bash Sonnet Reading Sign-Up(Reserve the time(s) you would like to read a sonnet during the Sonnet Reading)  A two-day event on February 19-20, 2016, sponsored and produced by CMRS, intended as an exploration of popular identities past and present with special attention to the world of Shakespeare's time.This is the third in a yearly series of events under the broader CMRS theme of 'Popular Culture and the Deep Past,' in which contemporary pop-cultural manifestations will be explored and celebrated with attention to their profound and wide-ranging historical and cultural contexts. A guiding principle of the series is to bring diverse communities together in and around Ohio State, including the academic and non-academic, scholarly and performative, creative, educational, and reflective communities.  Unless otherwise indicated, all events will take place in the Ohio Union, 1739 North High Street.Visitor Parking is available at the Ohio Union South Garage. Academic ConferenceSonnet Reading Sign-Up(Reserve the time(s) you would like to read a sonnet during the Sonnet Reading)Stream select lectures from Shakespeare's Day!Professor Robert Henke, "Shakespeare and the Commedia dell' Arte"Professor Jeremy Smith, "Music, Death, and 'Uncomfortable Time': William Byrd's O that most rare breast and Shakespeare's 'Excellent Conceited Tragedy' of Romeo and Juliet"The Confused Greenies of Player's Patchwork Theater Company, "Buckets of Ducats"  FRIDAY February 19 — all events in the Ohio Union Abstracts 9:00 Registration and RefreshmentsCentral Hall 9:15 Welcome, Graeme Boone, CMRS DirectorCartoon Room 1 (3rd Floor)9:30 - 11:30 AMSession I: Shakespeare Around the WorldCartoon Room 1Chair, Marjorie Chan (Professor, East Asian Languages and Literatures, Ohio State)"Muslim Caliban and England's Popular Culture"Leighla Khansari (Graduate Student, Comparative Studies, Ohio State) "Shakespeare and the Modern Arabic Theater"Joseph Zeidan (Professor, Near Eastern Languages and Cultures, Ohio State)"A Beijing Opera Adaptation of William Shakespeare's Hamlet"Marjorie K. M. Chan (Professor, East Asian Languages and Literatures, Ohio State)"The Introduction of Shakespeare to Japan in the Nineteenth Century"Richard Torrance (Professor, East Asian Languages and Literatures, Ohio State)  Session II: Papers From the Mappa Mundi ClubCartoon Room 2Chair, Nick Spitulski (Medieval & Renaissance Studies)"Visualizing Elizabethan England"Reba L. Kocher (Undergraduate Student, History, Ohio State)"Fairy Interesting"Kaelyn O. McAdams (Undergraduate Student, Medieval and Renaissance Studies, Ohio State)11:30[Lunch]12-12:45 PM"Editing Shakespeare"Cartoon Room 1with Sarah Neville  (Professor, English, Ohio State)1:00-3:00 PMSession III: Modern ResonancesCartoon Room 1Chair, Matthew Yde (Ph.D., Theatre, Ohio State)"'Thou hast no hands to wipe away thy tears': Anxiety and Mutilation of the Body in Shakespearean Performance and Horror FilmsEric Brinkman (Graduate Student, Theatre, Ohio State) "Look at This F*cking Thesis: Modern Counterculture in Sweet Wag Shakespeare's As You Like It"Patrick Aaron Harris (MFA candidate, Shakespeare & Performance Mary Baldwin College)"From Farce to Tragicomedy: Mutations of Malvolio from William Shakespeare's Day to Ours"Matthew Yde (Ph.D., Theatre, Ohio State)"Shakespeare for Kids: Bringing Shakespeare's Popular Culture into the 21st Century"Elizabeth Harelik (Graduate Student, Theatre, Ohio State)Session IVRound table 1: Lord Denney's Players: Performing Medieval and Renaissance Drama TodayCartoon Room 2Moderator, Manuel Jacquez (Graduate Student, English, Ohio State)Sarah Neville (Professor, English, Ohio State)Antony Shuttleworth (Professor,  English, Ohio State) Annie McAlpine (BA, English)Ellie Rogers (Undergraduate Student, Theatre, Ohio State) 3:00Break; Refreshment3:30-5:00 PM   Session VRound table 2: Transnational Exchange within Anglo and Iberian Theatre (16–17th centuries)Cartoon Room 1Moderator, Jessica Rutherford (Graduate Student, Spanish and Portuguese, Ohio State)Robey Patrick (PhD, Spanish and Portuguese, Ohio State) Andrew Woodmansee (Graduate Student, Spanish and Portuguese, Ohio State) Victoria Muñoz (Graduate Student, English, Ohio State) Session VIRound table 3: Teaching Shakespeare in 2016 (Sponsored by the Medieval & Renaissance Graduate Student Association)Cartoon Room 2Moderator, Manuel Jacquez (Graduate Student, English, Ohio State)Carmen Meza (Graduate Student, English, Ohio State)Evan Thomas (Graduate Student, English, Ohio State)Jonathan Holmes (Graduate Student, English, Ohio State)Liz Steinway (Graduate Student, English, Ohio State)Beth Kattleman (Professor, Theatre, Ohio State)5:30[Break] 6:00 PM The Confused Greenies of Player's Patchwork Theater Company present "Buckets of Ducats"U.S. Bank Conference Theater  A one-act commedia dell'arte performanceStream Performance 7:00CMRS Public LectureU.S. Bank Conference Theater (ground floor)"Shakespeare and the Commedia dell' Arte"Robert Henke (Professor, Performing Arts and Comparative Literature, Washington University St. Louis)Stream Lecture    SATURDAY, February 20 —all daytime events in the Ohio Union lower level (basement), unless otherwise notedAbstracts 9:00Registration and RefreshmentsCentral Hall10:00-12:00 PMSession VII: Images, Stories, Dancing Across TimeMaudine Cow RoomChair, Melanie Schuessler Bond (Professor, Costume Design, Eastern Michigan University)"Deconstructing and Reconstructing Sixteenth-Century Clothing in Film"Melanie Schuessler Bond (Professor, Costume Design, Eastern Michigan University)"Picturing a 'Flower': Ballad Woodcuts, Circulating Androgyny, and 'The Famous Flower of Serving-Men'"Katharine Elizabeth Landers (Graduate Student, English, University of North Carolina at Chapel Hill)"The Fictionalization of History: How Stories Shape Our Understanding of the Past"Samantha Edmonds (Graduate Student, English, University of Cincinnati) "Come Dance through France in Time and Space: From Baroque to Bal-musette"Martha Pereszlenyi-Pinter (Chair, Classical and Modern Languages and Cultures, John Carroll University) Session VIII: Cultural, Literary, and Historical LensesMilestones RoomChair, Alan Farmer (Professor, English, Ohio State)"Coleridge, Melancholy, and Hamlet"Clare Simmons (Professor, English, Ohio State)"Shakespeare and Deadwood"Sean O'Sullivan (Professor, English, Ohio State)"Idle and Scurrilous Trifles:  Playbooks and Popular Culture in Early Modern England"Alan B. Farmer (Professor, English, Ohio State)"'Dreams that would live on': Shakespeare and the Making of Modern Comics  Jared Gardner (Professor, English, Ohio State)  12:00[Lunch]1:30-3:30 PMSession IX: Interpreting ShakespeareMaudine Cow RoomChair, John Slefinger (Graduate Student, English)"'Within an organ weak':  Helen's Rhetoric of Divine Grace and Self-Abnegation in All's Well That Ends Well"Bethany Christiansen (Graduate Student, English, Ohio State)"Cultural Mixing in Henry VIII"Mira Kafantaris (PhD, English, Ohio State)"Mourning, Melancholia, Macbeth, and Film"Michael Harwick, Travis Neel (Graduate Students, English, Ohio State)"From Page to Stage: Shakespeare's use of Holinshed's Chronicles"Dustin Meyer (Graduate Student, English, Purdue University)Session X: Music Then and NowMilestones RoomChair, Graeme Boone (Professor, Music, Ohio State)"Shakespeare and the Blues"Graeme M. Boone (Professor, Music, Ohio State)Jarod Ogier (Librarian, Music/Dance Library, Ohio State)"'The Historical Problem': Underscoring Romance in Shakespeare in Love"Elizabeth Kirkendoll (Graduate Student, Music, Ohio State)"The Difficulties of Writing Shakespeare Opera"Arved Ashby (Professor, Music, Ohio State)"The Original Music for A Midsummer Night's Dream"Ronald S. Cook (Independent Scholar and Performer)Session XI: Food and Foodways in the Age of ShakespeareHagerty Hall, Room 046Chair, Hannibal Hamlin (Professor, English, Ohio State)"Reconstructing Sixteenth-Century Regional Gastronomy from Alentejo: Évora, Portugal"Jessica Rutherford (Graduate Student, Spanish and Portuguese, Ohio State)   "Feasting in Shakespeare"Hannibal Hamlin (Professor, English, Ohio State)"The Cultural Niche of Cheese in Shakespeare's EnglandLeslie Lockett (Professor, English Ohio State)3:30[Break]4:00-5:15 PM'Shakespeare's Day' Keynote LectureU.S. Bank Conference Theater"Music, Death, and 'Uncomfortable Time': William Byrd's O that most rare breast and Shakespeare's "Excellent Conceited Tragedy" of Romeo and Juliet"Jeremy Smith (Professor, Music, University of Colorado at Boulder) with participation from Members of Fior Angelico Stream Lecture Additional Attractions Saturday, February 20 -- additional activities in the Union    9:00Registration and RefreshmentsCentral Hall10:00-4:00 PMExhibitsCreative Arts Room Rare Books and ManuscriptsRare Books and Manuscripts LibraryHilander Research Librarywith Librarians Eric Johnson and Pasha JohnsonArtful WritingCalligraphy Guild of ColumbusTheatrical ArtworkJerome Lawrence and Robert E. Lee TheatreResearch Institutewith Professor Beth KattelmanHistorical Spinningwith Sharon MechArtisan VendorsTinctures & Salves from Boline ApothecaryWooden Utensils from John Gustafson10:00-11:0011:00-12:00Lecture DemonstrationDance 1"Music and Musical Instruments in Shakespeare's England"Ron and Janice Cook from The Early Interval12:00[Lunch]12:15-1:15 PMShakespeare Play ReadingDance 1with Elizabeth Harelik (Graduate Student, Theatre)               1:30-3:30 PMSonnet SessionCentral Hall a reading of Shakespeare's sonnetsLed by Jennifer Higginbotham(Sonnet Reading Sign-Up **Reserve the time(s) you would like to read a sonnet during the Sonnet Reading**)Elizabethan Dance WorkshopDance 1Led by David Sweeten (Graduate Student, English)Combat WorkshopDance 2Led by Sarah Dunlap, Oliver Kennedy and Chris Rockwell (Alumni of the Ithaca Chapter of the Ring of Steel Theatrical Combat and Stunt Troupe)3:00-3:30 PMA Concert of William Byrd's MusicU.S. Bank Theater Members of Fior Angelico (view their page), Directed by Matthew Bester3:30Break and refreshments[5:30–9:30]Shakespeare Bash and Macbeth screening at the Gateway Theater Shakespeare Bash Register for Shakespeare's Day Shakespeare's Day Main Page
OSU ASC Drupal 8
ascwebservices@osu.edu
America/New_York
public
Date Range
Add to Calendar
2016-02-19 09:00:00
2016-02-20 18:00:00
Popular Culture and the Deep Past, 2016: Shakespeare's Day - 1616/2016
 February 19-20, 2016Ohio Union - The Ohio State UniversityAcademic Conference AbstractsAdditional Attractions Shakespeare's Day Main Page Register for Shakespeare's Day Shakespeare Bash Sonnet Reading Sign-Up(Reserve the time(s) you would like to read a sonnet during the Sonnet Reading)  A two-day event on February 19-20, 2016, sponsored and produced by CMRS, intended as an exploration of popular identities past and present with special attention to the world of Shakespeare's time.This is the third in a yearly series of events under the broader CMRS theme of 'Popular Culture and the Deep Past,' in which contemporary pop-cultural manifestations will be explored and celebrated with attention to their profound and wide-ranging historical and cultural contexts. A guiding principle of the series is to bring diverse communities together in and around Ohio State, including the academic and non-academic, scholarly and performative, creative, educational, and reflective communities.  Unless otherwise indicated, all events will take place in the Ohio Union, 1739 North High Street.Visitor Parking is available at the Ohio Union South Garage. Academic ConferenceSonnet Reading Sign-Up(Reserve the time(s) you would like to read a sonnet during the Sonnet Reading)Stream select lectures from Shakespeare's Day!Professor Robert Henke, "Shakespeare and the Commedia dell' Arte"Professor Jeremy Smith, "Music, Death, and 'Uncomfortable Time': William Byrd's O that most rare breast and Shakespeare's 'Excellent Conceited Tragedy' of Romeo and Juliet"The Confused Greenies of Player's Patchwork Theater Company, "Buckets of Ducats"  FRIDAY February 19 — all events in the Ohio Union Abstracts 9:00 Registration and RefreshmentsCentral Hall 9:15 Welcome, Graeme Boone, CMRS DirectorCartoon Room 1 (3rd Floor)9:30 - 11:30 AMSession I: Shakespeare Around the WorldCartoon Room 1Chair, Marjorie Chan (Professor, East Asian Languages and Literatures, Ohio State)"Muslim Caliban and England's Popular Culture"Leighla Khansari (Graduate Student, Comparative Studies, Ohio State) "Shakespeare and the Modern Arabic Theater"Joseph Zeidan (Professor, Near Eastern Languages and Cultures, Ohio State)"A Beijing Opera Adaptation of William Shakespeare's Hamlet"Marjorie K. M. Chan (Professor, East Asian Languages and Literatures, Ohio State)"The Introduction of Shakespeare to Japan in the Nineteenth Century"Richard Torrance (Professor, East Asian Languages and Literatures, Ohio State)  Session II: Papers From the Mappa Mundi ClubCartoon Room 2Chair, Nick Spitulski (Medieval & Renaissance Studies)"Visualizing Elizabethan England"Reba L. Kocher (Undergraduate Student, History, Ohio State)"Fairy Interesting"Kaelyn O. McAdams (Undergraduate Student, Medieval and Renaissance Studies, Ohio State)11:30[Lunch]12-12:45 PM"Editing Shakespeare"Cartoon Room 1with Sarah Neville  (Professor, English, Ohio State)1:00-3:00 PMSession III: Modern ResonancesCartoon Room 1Chair, Matthew Yde (Ph.D., Theatre, Ohio State)"'Thou hast no hands to wipe away thy tears': Anxiety and Mutilation of the Body in Shakespearean Performance and Horror FilmsEric Brinkman (Graduate Student, Theatre, Ohio State) "Look at This F*cking Thesis: Modern Counterculture in Sweet Wag Shakespeare's As You Like It"Patrick Aaron Harris (MFA candidate, Shakespeare & Performance Mary Baldwin College)"From Farce to Tragicomedy: Mutations of Malvolio from William Shakespeare's Day to Ours"Matthew Yde (Ph.D., Theatre, Ohio State)"Shakespeare for Kids: Bringing Shakespeare's Popular Culture into the 21st Century"Elizabeth Harelik (Graduate Student, Theatre, Ohio State)Session IVRound table 1: Lord Denney's Players: Performing Medieval and Renaissance Drama TodayCartoon Room 2Moderator, Manuel Jacquez (Graduate Student, English, Ohio State)Sarah Neville (Professor, English, Ohio State)Antony Shuttleworth (Professor,  English, Ohio State) Annie McAlpine (BA, English)Ellie Rogers (Undergraduate Student, Theatre, Ohio State) 3:00Break; Refreshment3:30-5:00 PM   Session VRound table 2: Transnational Exchange within Anglo and Iberian Theatre (16–17th centuries)Cartoon Room 1Moderator, Jessica Rutherford (Graduate Student, Spanish and Portuguese, Ohio State)Robey Patrick (PhD, Spanish and Portuguese, Ohio State) Andrew Woodmansee (Graduate Student, Spanish and Portuguese, Ohio State) Victoria Muñoz (Graduate Student, English, Ohio State) Session VIRound table 3: Teaching Shakespeare in 2016 (Sponsored by the Medieval & Renaissance Graduate Student Association)Cartoon Room 2Moderator, Manuel Jacquez (Graduate Student, English, Ohio State)Carmen Meza (Graduate Student, English, Ohio State)Evan Thomas (Graduate Student, English, Ohio State)Jonathan Holmes (Graduate Student, English, Ohio State)Liz Steinway (Graduate Student, English, Ohio State)Beth Kattleman (Professor, Theatre, Ohio State)5:30[Break] 6:00 PM The Confused Greenies of Player's Patchwork Theater Company present "Buckets of Ducats"U.S. Bank Conference Theater  A one-act commedia dell'arte performanceStream Performance 7:00CMRS Public LectureU.S. Bank Conference Theater (ground floor)"Shakespeare and the Commedia dell' Arte"Robert Henke (Professor, Performing Arts and Comparative Literature, Washington University St. Louis)Stream Lecture    SATURDAY, February 20 —all daytime events in the Ohio Union lower level (basement), unless otherwise notedAbstracts 9:00Registration and RefreshmentsCentral Hall10:00-12:00 PMSession VII: Images, Stories, Dancing Across TimeMaudine Cow RoomChair, Melanie Schuessler Bond (Professor, Costume Design, Eastern Michigan University)"Deconstructing and Reconstructing Sixteenth-Century Clothing in Film"Melanie Schuessler Bond (Professor, Costume Design, Eastern Michigan University)"Picturing a 'Flower': Ballad Woodcuts, Circulating Androgyny, and 'The Famous Flower of Serving-Men'"Katharine Elizabeth Landers (Graduate Student, English, University of North Carolina at Chapel Hill)"The Fictionalization of History: How Stories Shape Our Understanding of the Past"Samantha Edmonds (Graduate Student, English, University of Cincinnati) "Come Dance through France in Time and Space: From Baroque to Bal-musette"Martha Pereszlenyi-Pinter (Chair, Classical and Modern Languages and Cultures, John Carroll University) Session VIII: Cultural, Literary, and Historical LensesMilestones RoomChair, Alan Farmer (Professor, English, Ohio State)"Coleridge, Melancholy, and Hamlet"Clare Simmons (Professor, English, Ohio State)"Shakespeare and Deadwood"Sean O'Sullivan (Professor, English, Ohio State)"Idle and Scurrilous Trifles:  Playbooks and Popular Culture in Early Modern England"Alan B. Farmer (Professor, English, Ohio State)"'Dreams that would live on': Shakespeare and the Making of Modern Comics  Jared Gardner (Professor, English, Ohio State)  12:00[Lunch]1:30-3:30 PMSession IX: Interpreting ShakespeareMaudine Cow RoomChair, John Slefinger (Graduate Student, English)"'Within an organ weak':  Helen's Rhetoric of Divine Grace and Self-Abnegation in All's Well That Ends Well"Bethany Christiansen (Graduate Student, English, Ohio State)"Cultural Mixing in Henry VIII"Mira Kafantaris (PhD, English, Ohio State)"Mourning, Melancholia, Macbeth, and Film"Michael Harwick, Travis Neel (Graduate Students, English, Ohio State)"From Page to Stage: Shakespeare's use of Holinshed's Chronicles"Dustin Meyer (Graduate Student, English, Purdue University)Session X: Music Then and NowMilestones RoomChair, Graeme Boone (Professor, Music, Ohio State)"Shakespeare and the Blues"Graeme M. Boone (Professor, Music, Ohio State)Jarod Ogier (Librarian, Music/Dance Library, Ohio State)"'The Historical Problem': Underscoring Romance in Shakespeare in Love"Elizabeth Kirkendoll (Graduate Student, Music, Ohio State)"The Difficulties of Writing Shakespeare Opera"Arved Ashby (Professor, Music, Ohio State)"The Original Music for A Midsummer Night's Dream"Ronald S. Cook (Independent Scholar and Performer)Session XI: Food and Foodways in the Age of ShakespeareHagerty Hall, Room 046Chair, Hannibal Hamlin (Professor, English, Ohio State)"Reconstructing Sixteenth-Century Regional Gastronomy from Alentejo: Évora, Portugal"Jessica Rutherford (Graduate Student, Spanish and Portuguese, Ohio State)   "Feasting in Shakespeare"Hannibal Hamlin (Professor, English, Ohio State)"The Cultural Niche of Cheese in Shakespeare's EnglandLeslie Lockett (Professor, English Ohio State)3:30[Break]4:00-5:15 PM'Shakespeare's Day' Keynote LectureU.S. Bank Conference Theater"Music, Death, and 'Uncomfortable Time': William Byrd's O that most rare breast and Shakespeare's "Excellent Conceited Tragedy" of Romeo and Juliet"Jeremy Smith (Professor, Music, University of Colorado at Boulder) with participation from Members of Fior Angelico Stream Lecture Additional Attractions Saturday, February 20 -- additional activities in the Union    9:00Registration and RefreshmentsCentral Hall10:00-4:00 PMExhibitsCreative Arts Room Rare Books and ManuscriptsRare Books and Manuscripts LibraryHilander Research Librarywith Librarians Eric Johnson and Pasha JohnsonArtful WritingCalligraphy Guild of ColumbusTheatrical ArtworkJerome Lawrence and Robert E. Lee TheatreResearch Institutewith Professor Beth KattelmanHistorical Spinningwith Sharon MechArtisan VendorsTinctures & Salves from Boline ApothecaryWooden Utensils from John Gustafson10:00-11:0011:00-12:00Lecture DemonstrationDance 1"Music and Musical Instruments in Shakespeare's England"Ron and Janice Cook from The Early Interval12:00[Lunch]12:15-1:15 PMShakespeare Play ReadingDance 1with Elizabeth Harelik (Graduate Student, Theatre)               1:30-3:30 PMSonnet SessionCentral Hall a reading of Shakespeare's sonnetsLed by Jennifer Higginbotham(Sonnet Reading Sign-Up **Reserve the time(s) you would like to read a sonnet during the Sonnet Reading**)Elizabethan Dance WorkshopDance 1Led by David Sweeten (Graduate Student, English)Combat WorkshopDance 2Led by Sarah Dunlap, Oliver Kennedy and Chris Rockwell (Alumni of the Ithaca Chapter of the Ring of Steel Theatrical Combat and Stunt Troupe)3:00-3:30 PMA Concert of William Byrd's MusicU.S. Bank Theater Members of Fior Angelico (view their page), Directed by Matthew Bester3:30Break and refreshments[5:30–9:30]Shakespeare Bash and Macbeth screening at the Gateway Theater Shakespeare Bash Register for Shakespeare's Day Shakespeare's Day Main Page
Center for Medieval and Renaissance Studies
cmrs@osu.edu
America/New_York
public
February 19-20, 2016
Ohio Union - The Ohio State University
(Reserve the time(s) you would like to read a sonnet during the Sonnet Reading)
---
A two-day event on February 19-20, 2016, sponsored and produced by CMRS, intended as an exploration of popular identities past and present with special attention to the world of Shakespeare's time.
This is the third in a yearly series of events under the broader CMRS theme of 'Popular Culture and the Deep Past,' in which contemporary pop-cultural manifestations will be explored and celebrated with attention to their profound and wide-ranging historical and cultural contexts. A guiding principle of the series is to bring diverse communities together in and around Ohio State, including the academic and non-academic, scholarly and performative, creative, educational, and reflective communities.
---
Unless otherwise indicated, all events will take place in the Ohio Union, 1739 North High Street.
Visitor Parking is available at the Ohio Union South Garage.
Sonnet Reading Sign-Up
(Reserve the time(s) you would like to read a sonnet during the Sonnet Reading)
Stream select lectures from Shakespeare's Day!
FRIDAY February 19 — all events in the Ohio Union 
9:00
Registration and Refreshments
Central Hall
9:15 
Welcome, Graeme Boone, CMRS Director
Cartoon Room 1 (3rd Floor)
9:30 - 11:30 AM
Session I: Shakespeare Around the World
Cartoon Room 1
Chair, Marjorie Chan (Professor, East Asian Languages and Literatures, Ohio State)
"Muslim Caliban and England's Popular Culture"
Leighla Khansari (Graduate Student, Comparative Studies, Ohio State) 
"Shakespeare and the Modern Arabic Theater"
Joseph Zeidan (Professor, Near Eastern Languages and Cultures, Ohio State)
"A Beijing Opera Adaptation of William Shakespeare's Hamlet"
Marjorie K. M. Chan (Professor, East Asian Languages and Literatures, Ohio State)
"The Introduction of Shakespeare to Japan in the Nineteenth Century"
Richard Torrance (Professor, East Asian Languages and Literatures, Ohio State)  
Session II: Papers From the Mappa Mundi Club
Cartoon Room 2
Chair, Nick Spitulski (Medieval & Renaissance Studies)
"Visualizing Elizabethan England"
Reba L. Kocher (Undergraduate Student, History, Ohio State)
"Fairy Interesting"
Kaelyn O. McAdams (Undergraduate Student, Medieval and Renaissance Studies, Ohio State)
11:30
[Lunch]
12-12:45 PM
"Editing Shakespeare"
Cartoon Room 1
with Sarah Neville  (Professor, English, Ohio State)
1:00-3:00 PM
Session III: Modern Resonances
Cartoon Room 1
Chair, Matthew Yde (Ph.D., Theatre, Ohio State)
"'Thou hast no hands to wipe away thy tears': Anxiety and Mutilation of the Body in Shakespearean Performance and Horror Films
Eric Brinkman (Graduate Student, Theatre, Ohio State) 
"Look at This F*cking Thesis: Modern Counterculture in Sweet Wag Shakespeare's As You Like It"
Patrick Aaron Harris (MFA candidate, Shakespeare & Performance Mary Baldwin College)
"From Farce to Tragicomedy: Mutations of Malvolio from William Shakespeare's Day to Ours"
Matthew Yde (Ph.D., Theatre, Ohio State)
"Shakespeare for Kids: Bringing Shakespeare's Popular Culture into the 21st Century"
Elizabeth Harelik (Graduate Student, Theatre, Ohio State)
Session IV
Round table 1: Lord Denney's Players: Performing Medieval and Renaissance Drama Today
Cartoon Room 2
Moderator, Manuel Jacquez (Graduate Student, English, Ohio State)
Sarah Neville (Professor, English, Ohio State)
Antony Shuttleworth (Professor,  English, Ohio State) 
Annie McAlpine (BA, English)
Ellie Rogers (Undergraduate Student, Theatre, Ohio State) 
3:00
Break; Refreshment
3:30-5:00 PM   
Session V
Round table 2: Transnational Exchange within Anglo and Iberian Theatre (16–17th centuries)
Cartoon Room 1
Moderator, Jessica Rutherford (Graduate Student, Spanish and Portuguese, Ohio State)
Robey Patrick (PhD, Spanish and Portuguese, Ohio State) 
Andrew Woodmansee (Graduate Student, Spanish and Portuguese, Ohio State) 
Victoria Muñoz (Graduate Student, English, Ohio State) 
Session VI
Round table 3: Teaching Shakespeare in 2016 (Sponsored by the Medieval & Renaissance Graduate Student Association)
Cartoon Room 2
Moderator, Manuel Jacquez (Graduate Student, English, Ohio State)
Carmen Meza (Graduate Student, English, Ohio State)
Evan Thomas (Graduate Student, English, Ohio State)
Jonathan Holmes (Graduate Student, English, Ohio State)
Liz Steinway (Graduate Student, English, Ohio State)
Beth Kattleman (Professor, Theatre, Ohio State)
5:30
[Break]
6:00 PM
The Confused Greenies of Player's Patchwork Theater Company present "Buckets of Ducats"
U.S. Bank Conference Theater 
A one-act commedia dell'arte performance
7:00
CMRS Public Lecture
U.S. Bank Conference Theater (ground floor)
"Shakespeare and the Commedia dell' Arte"
Robert Henke (Professor, Performing Arts and Comparative Literature, Washington University St. Louis)
---
SATURDAY, February 20 —all daytime events in the Ohio Union lower level (basement), unless otherwise noted
9:00
Registration and Refreshments
Central Hall
10:00-12:00 PM
Session VII: Images, Stories, Dancing Across Time
Maudine Cow Room
Chair, Melanie Schuessler Bond (Professor, Costume Design, Eastern Michigan University)
"Deconstructing and Reconstructing Sixteenth-Century Clothing in Film"
Melanie Schuessler Bond (Professor, Costume Design, Eastern Michigan University)
"Picturing a 'Flower': Ballad Woodcuts, Circulating Androgyny, and 'The Famous Flower of Serving-Men'"
Katharine Elizabeth Landers (Graduate Student, English, University of North Carolina at Chapel Hill)
"The Fictionalization of History: How Stories Shape Our Understanding of the Past"
Samantha Edmonds (Graduate Student, English, University of Cincinnati) 
"Come Dance through France in Time and Space: From Baroque to Bal-musette"
Martha Pereszlenyi-Pinter (Chair, Classical and Modern Languages and Cultures, John Carroll University) 
Session VIII: Cultural, Literary, and Historical Lenses
Milestones Room
Chair, Alan Farmer (Professor, English, Ohio State)
"Coleridge, Melancholy, and Hamlet"
Clare Simmons (Professor, English, Ohio State)
"Shakespeare and Deadwood"
Sean O'Sullivan (Professor, English, Ohio State)
"Idle and Scurrilous Trifles:  Playbooks and Popular Culture in Early Modern England"
Alan B. Farmer (Professor, English, Ohio State)
"'Dreams that would live on': Shakespeare and the Making of Modern Comics  
Jared Gardner (Professor, English, Ohio State)  
12:00
[Lunch]
1:30-3:30 PM
Session IX: Interpreting Shakespeare
Maudine Cow Room
Chair, John Slefinger (Graduate Student, English)
"'Within an organ weak':  Helen's Rhetoric of Divine Grace and Self-Abnegation in All's Well That Ends Well"
Bethany Christiansen (Graduate Student, English, Ohio State)
"Cultural Mixing in Henry VIII"
Mira Kafantaris (PhD, English, Ohio State)
"Mourning, Melancholia, Macbeth, and Film"
Michael Harwick, Travis Neel (Graduate Students, English, Ohio State)
"From Page to Stage: Shakespeare's use of Holinshed's Chronicles"
Dustin Meyer (Graduate Student, English, Purdue University)
Session X: Music Then and Now
Milestones Room
Chair, Graeme Boone (Professor, Music, Ohio State)
"Shakespeare and the Blues"
Graeme M. Boone (Professor, Music, Ohio State)
Jarod Ogier (Librarian, Music/Dance Library, Ohio State)
"'The Historical Problem': Underscoring Romance in Shakespeare in Love"
Elizabeth Kirkendoll (Graduate Student, Music, Ohio State)
"The Difficulties of Writing Shakespeare Opera"
Arved Ashby (Professor, Music, Ohio State)
"The Original Music for A Midsummer Night's Dream"
Ronald S. Cook (Independent Scholar and Performer)
Session XI: Food and Foodways in the Age of Shakespeare
Hagerty Hall, Room 046
Chair, Hannibal Hamlin (Professor, English, Ohio State)
"Reconstructing Sixteenth-Century Regional Gastronomy from Alentejo: Évora, Portugal"
Jessica Rutherford (Graduate Student, Spanish and Portuguese, Ohio State)   
"Feasting in Shakespeare"
Hannibal Hamlin (Professor, English, Ohio State)
"The Cultural Niche of Cheese in Shakespeare's England
Leslie Lockett (Professor, English Ohio State)
3:30
[Break]
4:00-5:15 PM
'Shakespeare's Day' Keynote Lecture
U.S. Bank Conference Theater
"Music, Death, and 'Uncomfortable Time': William Byrd's O that most rare breast and Shakespeare's "Excellent Conceited Tragedy" of Romeo and Juliet"
Jeremy Smith (Professor, Music, University of Colorado at Boulder) 
with participation from Members of Fior Angelico 
---
Saturday, February 20 -- additional activities in the Union   
9:00
Registration and Refreshments
Central Hall
10:00-4:00 PM
Exhibits
Creative Arts Room
Rare Books and Manuscripts
Rare Books and Manuscripts Library
Hilander Research Library
with Librarians Eric Johnson and Pasha Johnson
Artful Writing
Calligraphy Guild of Columbus
Theatrical Artwork
Jerome Lawrence and Robert E. Lee Theatre
Research Institute
with Professor Beth Kattelman
Historical Spinning
with Sharon Mech
Artisan Vendors
Tinctures & Salves from Boline Apothecary
Wooden Utensils from John Gustafson
10:00-11:00
11:00-12:00
Lecture Demonstration
Dance 1
"Music and Musical Instruments in Shakespeare's England"
Ron and Janice Cook from The Early Interval
12:00
[Lunch]
12:15-1:15 PM
Shakespeare Play Reading
Dance 1
with Elizabeth Harelik (Graduate Student, Theatre)               
1:30-3:30 PM
Sonnet Session
Central Hall
 a reading of Shakespeare's sonnets
Led by Jennifer Higginbotham
(Sonnet Reading Sign-Up **Reserve the time(s) you would like to read a sonnet during the Sonnet Reading**)
Elizabethan Dance Workshop
Dance 1
Led by David Sweeten (Graduate Student, English)
Combat Workshop
Dance 2
Led by Sarah Dunlap, Oliver Kennedy and Chris Rockwell (Alumni of the Ithaca Chapter of the Ring of Steel Theatrical Combat and Stunt Troupe)
3:00-3:30 PM
A Concert of William Byrd's Music
U.S. Bank Theater 
Members of Fior Angelico (view their page), Directed by Matthew Bester
3:30
Break and refreshments
[5:30–9:30]
Shakespeare Bash and Macbeth screening at the Gateway Theater
---